Collecting jazz records, and collecting records in general, is an interesting hobby.  I don't know any serious jazz vinyl fiends in real life, but I've read about them and know that the jazz record-collecting community seems to have an unpublished set of rules and codes on what is and isn't kosher. 
As a younger dude (I absolutely hate the term 'millennial'), I have a rather different outlook and approach when it comes to buying and collecting jazz on vinyl, as well as plenty of hot takes on the broader subject of jazz and the record collecting community.  Regular and/or long-time readers of Raggy Waltz are probably familiar with many of these opinions and outlooks, but after reading fellow jazz vinyl collector and blogger Richard Capeless' piece about his coming clean about how he truly felt on his blog, I thought it would be cathartic and kind of entertaining to just put my opinions out in the open.  These are just some of them. Here goes.
---
---
1. West Coast/'Cool' Jazz is My Favorite Type of Jazz
This is probably the least surprising revelation of all if you've been following my site for a while.  Maybe it's because I'm a native Southern Californian and I have pride for "my" jazz.  Perhaps it's because of the East Coast bias that has always tried to downplay anything that comes from the Best Coast.  Who knows, but cool jazz and West Coast jazz in general that was being made from the early 1950's through the early 1960's is above and beyond my favorite.  It's breezy, it's hip, it's willing to take chances (oboes, French Horns and cellos oh my!), and stimulating.  When I was younger and more feisty, I called it the "the thinking man's jazz", the logic being that because part of the birth of the cool arose from a more classical approach to the music, it was more cerebral and nuanced.  Nowadays, I acknowledge that while I do believe cool jazz is more cerebral and introspective as a whole, to call it the thinking man's jazz is unfair.  ALL jazz is the thinking man's jazz!  Not all of it, admittedly, but most of it.  Amen and amen.  With this being my favorite sub-genre of jazz…
---
2. Most of My Favorite Musicians Are White
This is easily my darkest (pun intended) and most ludicrous truth.  From Paul Desmond on alto sax, Stan Getz on tenor sax, to Joe Morello on drums, Cal Tjader on vibes, and Bill Evans and Dave Brubeck tied for top piano player, nearly all of my favorite jazz musicians are white.  This is somewhat disqualifying in serious jazz purist circles.  This is not at all saying that I don't like black jazz artists.  Nothing doing.  Hank Mobley, Red Garland, Wes Montgomery, Clifford Brown, Lee Morgan, Ray Brown, Horace Silver, etc are all tops with me.  The irony of holding these sentiments while being a very black dude is not lost on me at all.  Of course, with these predilections…
---
3. Most of My Record Collection Is Made Up of White Artists
At this point, I'm not even worthy enough to call myself a jazz record collector, and I'm barely holding on to my jazz fan card.  But don't get it twisted.  I'm proud of my record collection despite its anemic makeup.  I play my Shelly Manne, Gerry Mulligan, Cal Tjader, Paul Desmond, Vince Guaraldi, Stan Kenton, and others with pride.  I'm even unashamed of my George Shearing albums, which by all accounts is high on the list of things 'real' jazz buffs don't do!  Like I said earlier, though, this is not because I flat-out don't like black jazz artists!  Had I the money, I'd add more of their records to my collection.  Actually, now that I think about it, that's why I don't have too many of their albums.  They're too expensive for the average college student/recent grad with no job!
---
4. I Like Jazz With Strings
Sue me.
When in the right hands, a string section is a potent force to be reckoned with.  I'll be the first to admit that for every solid and successful jazz album with strings, there's two or three albums that just don't make it.  But the albums that do make it?  Absolutely gorgeous.  A few strings laying down a cushion or adding color for a jazz musician to float over and interact with?  Heaven.
---
5. I Like Bossa Nova
I actually love bossa nova, and have numerous albums of the infectious Brazilian music.  Do I understand or speak Portuguese?  Not at all.  Does it stop me from singing along and swaying with the music?  Not at all.  A record collecting friend of mine called bossa nova 'elevator music'.  And even if it is, who cares?  It's Brazilian jazz and it's beautiful music.  Side note-do they even play music on elevators anymore?
---
6. I Don't Think Blue Note Albums Sound THAT Great
Which isn't to say they sound bad or anything.  Rudy Van Gelder was a talented sound engineer and certainly created an iconic sound for Blue Note Records.  I just don't think 'iconic' is the same as 'best'.  Fred Plaut over at Columbia and Roy DuNann at Contemporary made more life-like, truthful-sounding recordings in my humble opinion, which technically makes for a better sound.  I'm just sayin'.  Why settle for a fuzzy piano in the name of being hip?  No slight to RVG, of course.
---
7. I Actually Like Oscar Peterson and Jimmy Smith
The jazz record collecting community has many unspoken rules.  This is a rare example of a spoken (and published) rule.  Over and over again I've seen hate and disdain for Mr. Peterson and Mr. Smith, for various reasons.  I like them both and readily buy their records, which are never expensive thanks to said hate and disdain.  My first Blue Note record was a beautiful Jimmy Smith album in fantastic condition.  Thanks to my grandpa, I've been an Oscar Peterson fan since the first grade, as that's all he used to play in the car when he'd pick me up from school.  Hopefully the hate and disdain continues, because I love buying their records for the cheap!
---
8. I Dig Those Old 'Mood Music'/Easy Listening Albums 
This is another one of those dirty pleasures of mine.  I don't know why, but those old mood music albums from the 1950's and 60's just hit the spot for me.  They're like getting my back scratched.  Because after a rough day of work and school, what's more relaxing than putting a record on of a full orchestra of strings, woodwinds, brass, a piano, and a rhythm section playing tunes that are jazz standards anyways?  Have you heard what Percy Faith can do with "All The Things You Are", or "Speak Low"?  I've gotten close to profiling a mood music album but always changed my mind at the last minute.  I may do it anyhow, just for kicks.  Consider yourselves warned.  You just haven't lived until you've heard 48 strings plus vibes and a rhythm section gently swing Duke Ellington's "Solitude".
---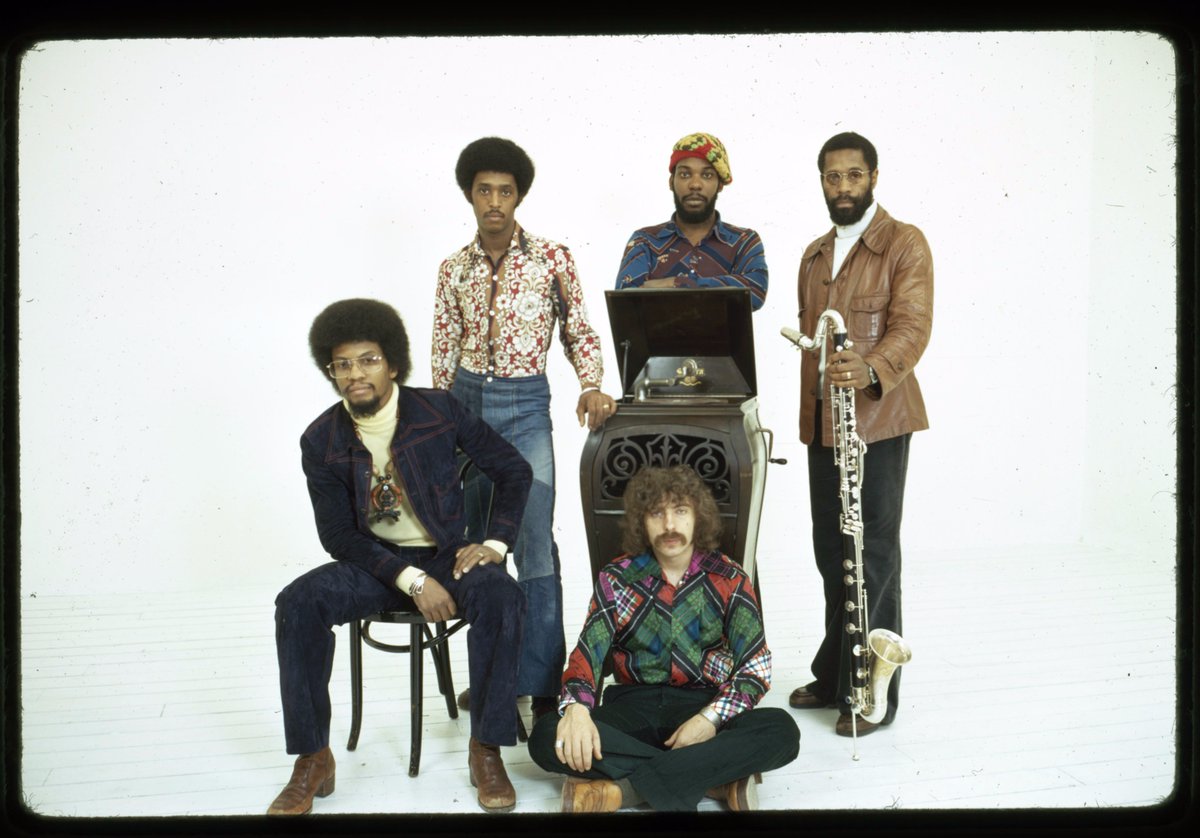 9. I'm A Fan of the Jazz Funk Fusion of the 1970's
Herbie Hancock and the Headhunters, Ramsey Lewis a la 'Sun Goddess', Donald Byrd and the Blackbyrds, the Fender Rhodes…  I'm here for it all.  Some say it's not real jazz, whatever that means.  It's heavy on the groove and less so on the swing, but it's still some great music.  Groove is swing's cousin, after all.  And while we're on the topic of jazz sub-genres, I have to say that I actually really like house music, aka electronic dance music (EDM).  House music uses a lot of jazz elements, and often borrows snippets from actual jazz tunes via sampling.  An artist named St. Germain used a sample from Brubeck and Desmond's "Take Five" to make a groovy loop on his own song called "Rose Rouge".  In the words of the construction worker, I can dig it.
10. Records Found & Bought In Physical Stores Sound Better
This is just science.  No matter how great the condition is of that record you bought off Discogs is or how much you spent on that auction on eBay, there's absolutely nothing like digging through the racks and bins and being surprised by something unexpected.  All of my most prized records (ok, maybe like 90%) were found in the wild across the country.  Sometimes it was in a thrift store in Georgia or Utah where I was just wasting time looking for something while I was waiting on a friend.  Usually it's a trip down to my local record store and perusing through the bins in the off-chance that I find something interesting.  As for the prices, records can still be bought in some places for less than a dollar, no shipping!  Looking at my record collection, I get just as much satisfaction and enjoyment out of my records thinking about where in the country I got them as actually playing them.  Think of them as both souvenirs and storytellers.  I do, anyhow.